A model answer to boatbuilding!
Whilst we had to pause construction of a 22 foot long coastal rowing skiff at the Scottish Maritime
Museum (Denny Tank), we found a novel way of keeping our community boatbuilding going through lockdown turning to model making by Zoom!
The nine week project will be led by boatbuilder Daisy Martinez, who will help eight residents at
Alternatives' Safe as Houses project in Clydebank develop an appreciation of traditional wooden boat building techniques as they build their own 50cm long Echo Bay Dory model skiff.
The team will learn the fundamentals of building a wooden rowing boat. The hull will feature curved planks, internal frames and bulkheads and will be fitted out with decks and seats or 'thwarts'.
Orkney-based sail maker Mark Shiner will then help everyone construct a scale model sail and rig from sailcloth before rigging it to the miniature mast, boom and sprit.
After waterproofing, decorating and naming the vessels, it is hoped the group will launch their mini flotilla on the River Leven.
Claire McDade, Project Manager at the Skylark IX Recovery Project, explains:
"Like so many community organisations over the last year, we've had to think creatively and adapt our projects to make sure we keep connecting with, and supporting, people through these difficult times.

"Temporarily moving our skiff building project, which builds on Dumbarton's strong boatbuilding heritage, to Zoom last Spring was a great success and we're delighted to begin our second programme now."
Daisy, an Outreach Officer at Archipelago Folkschool, adds: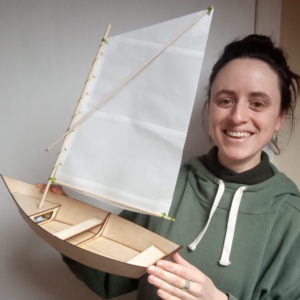 "These Echo Bay Dory model skiffs might be an eighth of the size of a full-size skiff but the principles remain the same. It's a great way of learning the fundamentals of traditional boat building. Working at that scale takes a lot of care and patience and it's a lot of fun too!

"We're looking forward to seeing a flotilla of colourful mini community skiffs set sail this Spring!"
The Safe as Houses Project is a joint venture between Alternatives and West Dunbartonshire Housing Services.
Filed under:
News